Efficient supply chain management is demonstrated by a planning chain that runs as automated as possible, from sales forecasting (demand planning) to replenishment (supply planning). 
Supply chain management must be effective and efficient.
The effectiveness of supply chain management can be recognised by a high product availability with as little inventory as possible. Inventories serve as organisational lubricant and a small amount of lubricant indicates a smoothly flowing value chain. 
Many companies are still far from managing their supply chains effectively and efficiently. Experience from the crises of recent years has shown that companies with a well-functioning sales forecast react faster and more consistently both at the onset of the recession and when the market picks up again. Despite all this, the importance of sales forecasting for corporate success is underestimated by many decision-makers: some companies believe that they are sufficiently positioned with their own know-how and existing ERP system.   
Other companies argue that in the age of lean management and market-synchronised production, sales forecasting is no longer necessary, and that poor delivery performance or high inventories are caused by their planners' lacking performance. But what should supply planning be geared to if demand planning sets the wrong course?  
Efficient demand planning is indispensable 
Every planning in the company and all logistical objectives – from inventory reduction to ensuring delivery readiness, from adherence to delivery dates to optimal capacity utilisation,  are based on a reliable sales and demand forecast. Quite often however the sales department is not capable of providing consistent sales forecasts. Therefore, it is important to develop sales and demand forecasts based on the customer order or consumption histories of the items and only let the sales department adjust market trends.   
The field of demand forecasting has evolved technologically in recent years. In relation to what is possible and necessary, the forecasting capabilities of practically all ERP systems are very limited and usually do not meet the realities of practice: most ERP systems focus on statistical procedures that assume normally distributed demand, do not have distribution-free procedures, attempt to optimise forecasting based solely on the forecasting error instead of the planning error, do not have simulative optimisation and usually also no AI procedures; the list could be continued. Disturbance variables, such as corona-related demand effects, are also difficult to factor out. 
---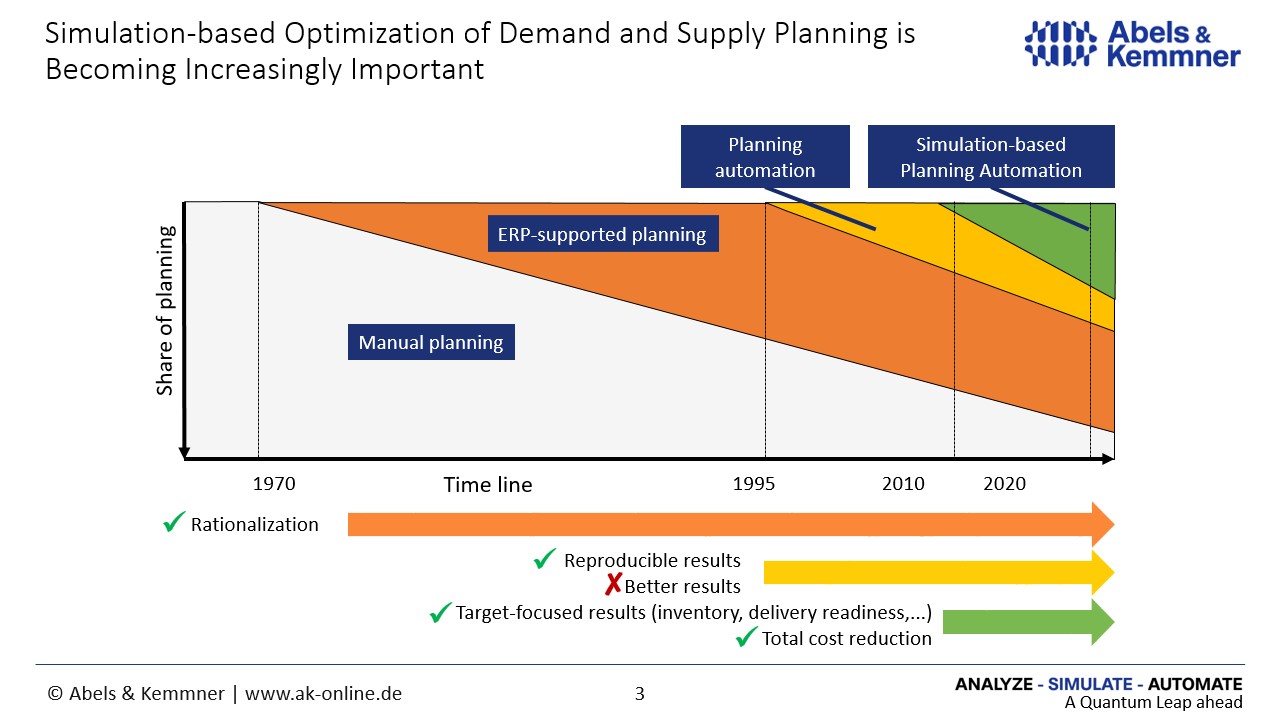 ---
Depending on the demand structure, it may be sufficient to optimise the limited possibilities of the forecasting procedures in the ERP system. In this case it must at least be determined, using an empirical simulation, which settings ("demand-side planning parameters") must be implemented in the ERP-system and how effective the forecasts will then be. To tune the corresponding ERP settings, we use the add-on system DISKOVER SCO (Supply Chain Optimiser). The algorithms of this tool select the best possible forecasting and safety stock procedures and parameters according to predefined optimisation targets such as product availability, costs or stock.  
Tuning the forecast settings of the ERP system is not a one-time affair but must be carried out regularly in order to adjust the settings in the best possible way. Therefore, a suitable add-on system is required regularly as a tuning tool. Since powerful tools play in a different league than ERP systems in terms of forecasting, it usually makes sense in demand planning to directly transfer the forecast results as planned independent requirements from the add-on system to the ERP system instead of only better parameterising the limited possibilities of the ERP system. Modern add-on tools are so sophisticated that the forecasts are created fully automatically without the users having to intervene in the process and therefore having to understand the mathematical contexts.  
In this way, demand planning becomes effective and efficient and only in doing so is it possible to achieve the goal of high product availability with the lowest possible inventory. 
---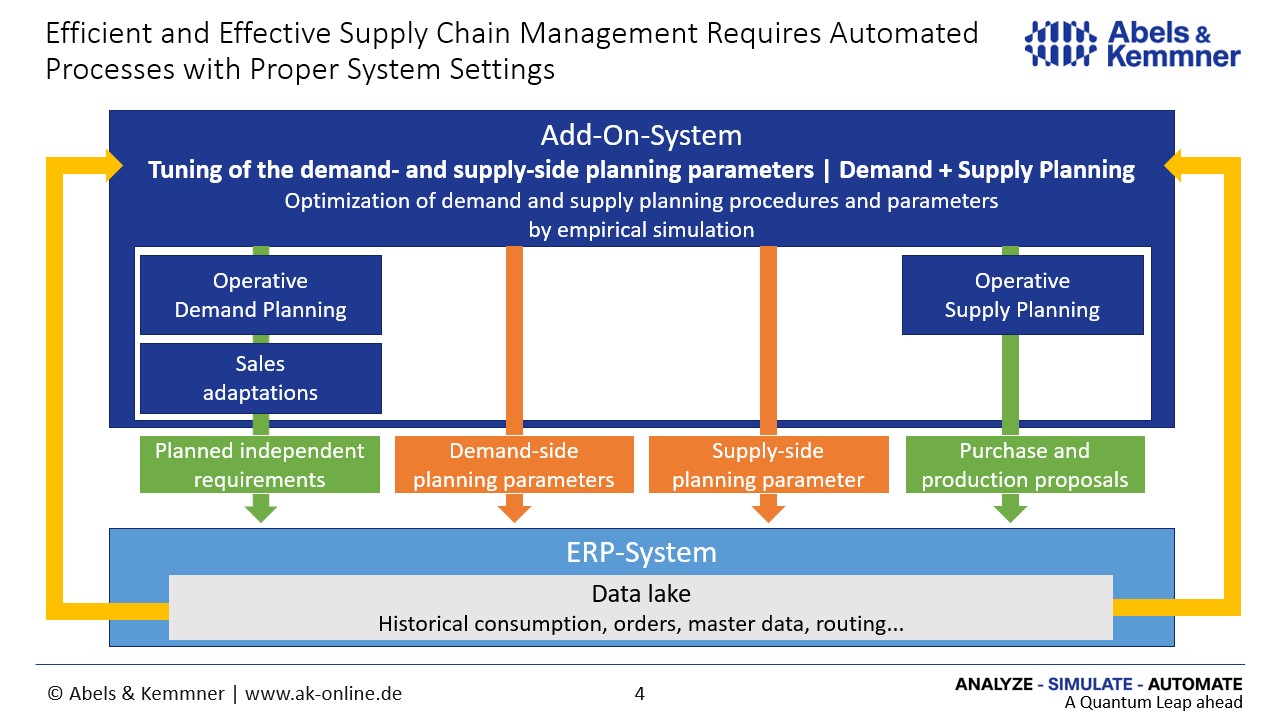 ---
Supply chain management can only stand on firm foundations with efficient and effective supply planning.  
Identifying the best possible forecasts and safety stock levels is a necessary but not yet sufficient step towards a high-performance supply chain. Effective and efficient supply planning is also necessary. For this, the right algorithms and settings for determining order dates and order quantities must be found and adjusted for each specific item. A typical weakness of supply planning in many companies is the insufficient maintenance of the supply-side planning parameters. These have to be revised regularly and must not be touched only once, when the article is created in the ERP system. 
However, regular manual maintenance of the planning parameters by the planners and production controllers themselves is unrealistic for time and technical reasons. Data maintenance would require up to half of a planners monthly working time. Moreover, the interaction of requirements, forecasts, scheduling decisions and value flows in the company and throughout the entire supply chain is so complex that it cannot be mastered with common sense alone; even proven planning experts and experienced consultants fail without suitable technical aids. As with demand planning, the economically correct settings for supply planning can only be identified resiliently and reliably by means of simulation, especially since numerous company-specific influencing factors and interdependencies have to be taken into account. 
 In contrast to demand planning, the functionality of supply planning is very mature in some ERP systems. For ERP systems that are more powerful in supply planning, there exist therefore two optimisation alternatives. One alternative is to run the entire planning process in the add-on system and return purchase orders and production proposals to the ERP. Alternatively, only the supply-side planning parameters are optimised in the add-on system and the readjusted values are transferred to the ERP system. The prerequisite in both cases is that the add-on system automatically adjusts its own or the ERP-side parameter settings to the changing constraints of the articles to be planned on an ongoing basis. This is where many of the classic supply planning add-on systems fail.
Conclusion tuning demand and supply planning
But this is the only way to reliably achieve the desired objectives, such as reducing inventories, improving product availability, or reducing overall costs. It is the only way to make dispatching and production control processes more stable and productive. And it is the only approach to automatically replenish up to 80% of all items. The time saved can then be used to handle exceptions, so that statistical service levels of 98% and above no longer have to be a challenge. 
Best Practice tips please have a look at White Papers